Gameday Tampa Bay
October 21st, 2018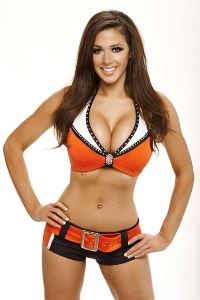 Game 6
Browns (2-3) at Bucs (2-3)
Kickoff: 1 p.m.
TV: WTVT-TV Channel 13, DirecTV NFL Sunday Ticket Channel 711. 
Radio: Buccaneers Radio Network (WXTB-FM 97.9 in the Tampa-St.Petersburg region; 97.9 FM ESPN Radio in Tallahassee); Spanish language broadcasts on WTMP-FM 96.1 and WMGG-AM 1470 in Tampa; SiriusXM Channel 81.
Weather: First nice day of the season for Bucs fans to be outside at the Den of Depression. Per AccuWeather.com, temperatures are expected to be in the low-80s. Tailgaters will actually enjoy temperatures in the 70s with a kickoff temperature of 81 expected. At the end of the game, that may bump up to 82, all under partly sunny skies.
Odds: Per FootballLocks.com, Bucs -3.5.
Outlook: This could be a make-or-break game for a lot of folks, a proverbial crossroads game for not just the season but the careers of a many players, coaches and front office suits. The season could tip wildly to a wild card run or a chase for a top draft pick.
All of that teeters on today's game. No team in the NFL has a longer playoff drought that the Bucs — except the Browns. No team has a worse home record in the post-Chucky era than the Bucs — except the Browns.
The Browns play in the Factory of Sadness; the Bucs play in the Den of Depression.
The Browns are widely thought to be the laughing stock of the NFL. The spittoon of professional football. The Mistake by the Lake. A loss to the Browns and the Bucs will be the fire hydrant in the dog park known as the NFL.
With a loss, Tampa Bay will be the new Cleveland.
A defeat to the Browns and the Bucs' franchise will be known as the Bungle by the Bay.
With a loss, Joe can easily see this season tailspin out of control, dudes playing for themselves, guys tuning out coaches. It would then be the second straight season of losing for Bucs coach Dirk Koetter and we all know what happens to coaches employed by Team Glazer who have two straight losing seasons without first winning a Super Bowl.
With a loss to the Browns, the Bucs could easily finish with a worse record through five seasons than the team's of former Bucs rock star general manager Mark Dominik. Dominik, of course, is a favorite whipping boy of Bucs fans.
If the Bucs don't want another coaching change, if they don't want upheaval in the front office, if they don't want to be mocked, ridiculed and laughed at as being the new sewer of the NFL, they have to beat the Browns and their rookie quarterback, Baker Mayfield.
The future of the Bucs and the fate of so many suits, coaches and players and their families are at stake today.
Trinkets: Since 2011, the Bucs are 1-10 facing rookie quarterbacks. The lone win came against E.J. Manuel and the Bills in 2013. … The Browns allegedly have a much better defense this season but the numbers suggest they aren't a whole lot worse than the Bucs. Cleveland is allowing 406.5 yards a game, No. 28 in the NFL. The Bucs, No. 31, are getting gouged for 440 yards a game. … Cleveland is also No. 21 in total points allowed with 151. The Bucs are No. 27 having coughed up 173 points. … QB Baker Mayfield passed for 295 yards with two touchdowns and two picks in his lone road start at Oakland last month. Mayfield also has 275+ passing yards in two of his past three games. he ranks second among rookies with 1,076 pass yards. … RB Duke Johnson had 109 scrimmage yards (73 rec., 36 rush) last week. He has 75+ scrimmage yards in five of his last seven road games in NFC stadiums. Since entering the league in 2015, Johnson leads NFL running backs with 1,905 receiving yards. He ranks second with 202 catches. … WR Jarvis Landry had 95 receiving yards and a touchdown last year against the Bucs at Miami. Landry has a touchdown catch in 3 of his past 4 games against NFC teams. Since entering the NFL in 2014, Landry has 431 catches, third-most in NFL over that time span. … TE David Njoku had a touchdown catch last week. … WR Antonio Callaway ranks third among AFC rookies with 189 receiving yards. … WR Damion Ratley had a career-high 82 yards receiving last week. … LB Jamie Collins has 23 tackles, two sacks, three tackles for a loss and a pass defended in his past three games. … DE Myles Garrett has seven sacks in his past eight games. … CB Damarious Randall aims for his third straight road game with at least two passes defended. He has eight passes defended and two picks in his last five road games. … Rookie CB Denzel Ward is tied for the NFL lead with three interceptions. … DT Larry Ogunjobi has six tackles for loss in his last five road games. … LB Christian Kirksey had an interception last week. … QB Jameis Winston completed 30 of 41 passes (73.2 percent) for 395 yards with 4 touchdowns and two picks last week. In his past four games against AFC opponents, he has 1,329 passing yards (332.3 per game) with six touchdowns and two interceptions. Aims for third game vs. an AFC team with 300+ pass yards. … RB Peyton Barber had 106 scrimmage yards (82 yards rushing, 24 yards receiving and his second-career game with 100+ scrimmage. He had his first career touchdown catch at Atlanta. … WR Mike Evans has 5,063 career receiving yards, most in franchise history. Has 18 catches for 317 yards (105.7 per game) and two touchdowns in his last three games against AFC teams. Since 2016, Evans is one of three receivers (the others are Antonio Brown and DeAndre Hopkins) with 2,800+ receiving yards and 20 touchdown catches. … WR Chris Godwin has a touchdown in five of his last six games. He is looking for this fourth straight home game with a touchdown. … TE Cam Brate had a touchdown catch last week. Since 2016, he is tied for the NFL lead among tight ends with 17 touchdowns catches. … TE O.J. Howard has three touchdown catches in his last three games against AFC teams. … DE Jason Pierre-Paul has five sacks in his last four games and in on pace for 16. In his last game against the Browns in November 2016, JPP had three sacks, a forced fumble and a fumble recovery. … MLB Kwon Alexander led the Bucs with 11 tackles and two tackles for loss last week. He has 51 tackles, a sack and a forced fumble in his last five home games. … LB Lavonte David has 38 tackles, five tackles for loss, two fumble recoveries and a forced fumble in his last four games against an AFC team.