Fourth-Quarter Evans?
October 12th, 2018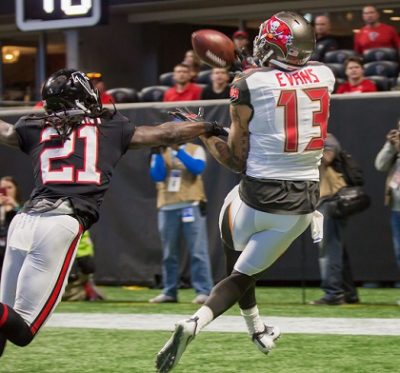 Interesting take by Dirk Koetter to the Atlanta media this week.
During a conference call with his old friends in Atlanta, Koetter was asked about Mike Evans.
Naturally, Koetter glowed about his No. 1 wide receiver, and he explained that Evans has reached a new level of fitness that's allowing him to play at 100 percent nearly every down.
It was a great reminder that the NFL isn't a Madden game. Receivers aren't robots programmed with speed ratings and can't perform like them.
Here's a chunk of Koetter as transcribed by D. Orlando Ledbetter of the Atlanta Journal-Constitution:
On the play of Mike Evans. "Mike is one of the top receivers in the league. Mike is really coming into the prime of his career. He's figured out exactly what his routine should be during the season. How to maximize taking care of his body. Mike is really doing a good job. … This is the best stamina that he's had in his career. That's allowed him to run every route at close to full speed. Like Mike Evans is to our offense is what Julio Jones is to (the Falcons') offense."
Joe is dialed in to the "best stamina" line and Evans getting close to running at "full speed" consistently. This improvement made Joe wonder whether Koetter and Todd Monken will change how they view Evans as a fourth-quarter receiver.
Also, if you think of a guy like Evans having inconsistent speeds because of fatigue, well, that sure could affect a quarterback's timing.