Faith In The Running Game
October 5th, 2018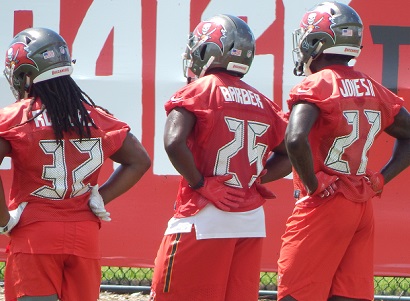 Before the Bucs offense took the field this season, Joe had one simple mindset: Screw balance and just score points however you must.
Dirk Koetter didn't seem to agree, but that's another story.
As training camp opened, Koetter was selling that rushing for an average of 125 yards per game (2,000 total yards) was a formula for playoff football. Koetter was quoting 2017 data but seemed to ignore that in 2016, only four teams rushed for 2,000 yards and only one of those made the playoffs.
Fast forward, and here we are with the Bucs at 2-2 and leading the NFL in passing yards (even with a Week 5 game played last night).
The Bucs' running game, however, is ranked 30th in total yards and last in average yards per carry at a miserable 3.1.
So is the rushing attack awful? The answer may seem easy, but it's not.
The running game was effective against the Saints early and set up the offense for a big day, though it failed to close out the game. Peyton Barber's 19 carries for 69 yards were certainly respectable with a couple of explosive plays mixed in.
Against the Eagles, Barber had nothing. But the Eagles are allowing just 3.4 yards per carry this season, second best in the NFL. Interestingly, the Saints lead the NFL in rush defense at 3.2 yards per carry. The Bears are a fraction behind the Eagles and also at 3.4. See a pattern?
In the last two games combined (15 carries), Barber is averaging a respectable 3.8 yards per carry with little work. Jacquizz Rodgers, Ronald Jones and Shaun Wilson have been non-factors.
Yes, loads of Bucs fans are screaming about the failed running game. Joe advises all of you to take a deep breath.
Doug Martin is gone and hold off on calling the running game hot garbage. Give it a few more games.
Joe suspects the return of America's Quarterback, Jameis Winston, will bring a renewed commitment to the running game, as well as success, especially with shaky run defenses coming up against Atlanta, Cleveland and Cincinnati.
Joe's not throwing in the towel yet on Barber and the center and left side of the offensive line.