Dirk Koetter's Call For A Complete Game & An Ed Glazer Sighting
October 24th, 2018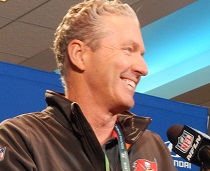 Raise your hand if you remember the clamp-down Dirk Koetter defense shutting out the explosive Steelers in the second half of the Tampa Bay-Pittsburgh game last month.
It was a beautiful thing. But that was just one example of the Bucs' issues in producing a complete football game from its various units, offense, defense and special teams.
Man, the Bucs are one up and down team — a sign of great potential and mental weakness.
Joe brings this up today because of the wonderful behind-the-scenes glimpse into the team provided by the NFL and the Buccaneers. It came late Sunday after one long and ugly football game, one that ended in a glorious victory by the Bucs over the bumbling Browns.
The video below shows Dirk Koetter's postgame speech to his club. He implores them to think about how good they can be if they just put together complete games.
Also in this video, you can see a Jason Licht and his young son, and Licht consoling injured Kwon Alexander. There's also a rare Ed Glazer sighting, the Buccaneers co-chairman is in the thick of the scene wearing sunglasses and a cap.