Dirk Koetter Says Brent Grimes Is 100 Percent
October 12th, 2018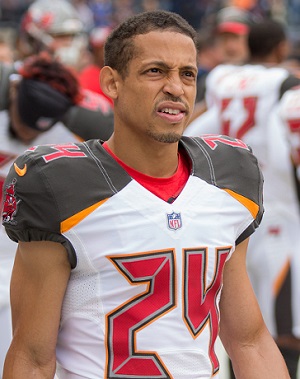 It's been a weird 12 days on the Brent Grimes front.
He was taken out of the Bears blowout but other veteran defensive players were not.
Many fans assumed Grimes was benched, assuming it was for poor play. Joe didn't buy that theory. But for some reason, Dirk Koetter and Mike Smith have not said publicly that Grimes absolutely wasn't benched whatsoever.
And that sent local sports radio and fans on social media into a barrage of chatter about Grimes getting benched and playing poorly.
NFL superwife Miko Grimes, spouse of the Bucs' top cornerback, didn't seem pleased about Grimes leaving the game on Instagram shortly after the Bears game. But she left a lot open to interpretation, so Joe's not going to assume anything.
This evening on the Buccaneers Radio Network, Koetter was asked about Grimes but had a very short answer in a show that was filled with long-winded answers by the head coach. However, Koetter delivered good news.
"Yeah, he's 100 percent," Koetter said of Grimes, "and I think Brent has had his best week of practice so far."
So there you have it. Grimes is considered full-go by the coaching staff and he's been impressing since the Bucs returned to work. Falcons QB Matt Ryan was known for avoiding throwing toward Grimes in practice when the two were teammates in Atlanta.
It'll be interesting to see what happens Sunday.