Dirk Koetter: Noah Spence Will Play Sunday
October 19th, 2018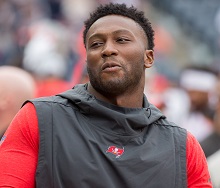 Change is coming to the Buccaneers defensive line.
You only need one hand to count how many snaps defensive end Noah Spence has had this season. The No. 39 overall pick of the 2016 NFL Draft has been a bust unable to crack the lineup on the NFL's worst defense.
But that will change Sunday.
Dirk Koetter announced on his Buccaneers Radio Network show this evening that Spence will be active against the Browns and will play.
"Noah will be active and he'll get a chance to get in there and do some damage," Koetter said.
Vinny Curry and Gerald McCoy are out with injuries and Spence now has a chance to change his career.
Whatever has been going on with Spence, it won't matter any longer if he can produce.