Zero Tolerance For A Losing Season
October 3rd, 2018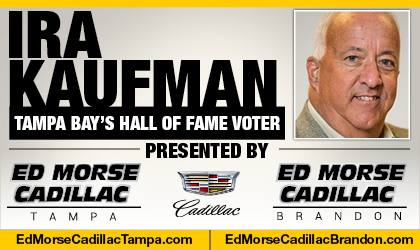 BY IRA KAUFMAN
One primary reason you select a quarterback first overall in the draft is your faith he can thrive under pressure.
We're about to find out.
It's Jameis Winston's football now, but it remains to be seen if this is still Winston's football team. He has three-quarters of a season to prove he belongs here well past 2018 … and everyone in Buc Nation will be watching.
The Bucs are fighting for relevance and Winston is fighting for a contract extension. Both pursuits are intertwined.
The $21 million potentially awaiting Winston next season is guaranteed only for injury. His starting job the rest of the year is guaranteed — except for injury.
After 45 pro starts, Winston remains an intriguing work in progress.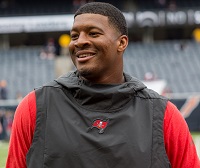 He has put up some big individual numbers, but the only number that counts, an 18-27 career record, generates serious doubts.
That's because quarterbacks are judged on their records, whether or not that's fair. That's why they get the big bucks and the lucrative endorsements that come with success.
Let's assume Winston starts all 12 remaining games. At 2-2, Tampa Bay has hardly dug an early hole against fierce competition. Credit Ryan Fitzpatrick for a spectacular performance in New Orleans and a very good outing against the Eagles. The stage now seems set for Winston to grab this season by the throat and prove he's the man.
"Jameis is back," says Fitzpatrick, "and Jameis is the guy. He's the face of the franchise."
At this point, Winston could use a facelift. He had all sorts of weapons last year, but you wouldn't know it. He went 3-10 as a starter and while the Bucs played atrocious defense, Winston didn't make enough winning plays.
If Winston goes 5-7 the rest of the way and the Bucs finish 7-9, I'm not giving him $21 million in 2019. I'm looking for a fresh new face. I'm not continuing to put my full support behind a quarterback who will have won only 23 of 57 starts.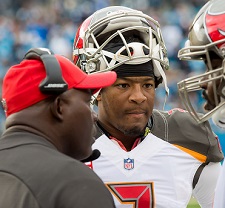 Nobody wants to begin all over and admit you made a huge mistake at the top of the 2015 draft, but what would be even worse is sticking with the wrong guy at the game's most critical position.
To be fair, Marcus Mariota hasn't torn up this league, either. He's 21-23 as a starter, but the Titans have followed up a playoff season with a good start in September.
Mariota's defense and offensive line are better than Winston's, but his targets pale in comparison.
This is Winston's time, beginning with a matchup against the high-scoring Falcons. Atlanta's injury-depleted defense is in shambles and the Bucs have extra time to exploit those weaknesses.
In my book, going 7-5 with this defense silences Winston's skeptics and keeps the Glazers firmly on his side. If it's another losing season, the Bucs should move on.
Either way, by the end of this 12-game job interview, a decision must be made. So here's my advice for No. 3: Ditch the suit and tie. Bring the lunch pail.
Now in his 40th year covering the NFL, Ira Kaufman is the most revered sports personality and writer in the Tampa Bay area. He scored a full-time seat at JoeBucsFan.com world headquarters in July of 2016. Tampa Bay's only Pro Football Hall of Fame busts out columns here every Monday, Wednesday and Friday, and his award winning podcasts fire Tuesdays and Thursdays. You can also hear Ira on SiriusXM Mad Dog Radio Wednesdays at 5 p.m. Also a TV star, Ira is part of the FOX-13 Tailgate Sunday NFL show at 10:30 a.m. He's also on BayNews 9 Mondays & Wednesdays at 10:30 p.m. He enjoys beet salads, Riesling, tennis, Bette Midler, Chiefs victories and needling Joe. …WATCH IRA AND DERRICK BROOKS on the new TAMPA TWO show from The Identity Tampa Bay and JoeBucsFan.