Derrick Brooks Offers A Jameis Theory
October 31st, 2018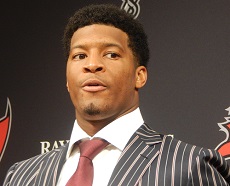 Buccaneers legend Derrick Brooks has a weekly meeting with America's Quarterback, Jameis Winston. It's about friendship and a young player learning from an all-time great; it's not for public consumption.
However, occasionally Brooks will offer a glimpse into the general nature of their discussion.
Brooks talked about Jameis for a minute today on WDAE-AM 620.
"Yes, he's pressing a little bit," Brooks said. "And I think the layoff for the first few games, from a mentality standpoint, and the chance to come back to prove himself, I think that has led to Jameis not being himself when it comes to on the field and pressing and doing too much, which has led to some costly turnovers."

"So right now you learn from it. Again, you support your teammates from a teammate standpoint. And you prepare for an opportunity to come your way again."
Brooks said those will be topics, among many others, for his upcoming meeting with Jameis this week.
Nobody can say Jameis is lacking great support in Tampa. From experienced coaching, to years in the same system, to a team-first veteran backup, to Derrick Brooks himself, and ownership had his back through rough times.
Joe is confident Jameis will handle his benching in the exact opposite manner that Josh Freeman did five years ago. No meltdown is forthcoming.
As for Jameis forcing things, "pressing," as Brooks said, because of internal pressure following his suspension, Joe's not sure what to think about that. Most NFL players are under varying degrees of pressure for a variety of reasons.
The successful ones have "poise in the noise," as Brooks has said on his weekly TAMPA TWO show with co-host Ira Kaufman.
Yes, there will be plenty of Jameis talk from Brooks and Ira on this week's TAMPA TWO episodes right here on JoeBucsFan.com and at The Identity Tampa Bay.