Defining A No. 1 Running Back
October 16th, 2018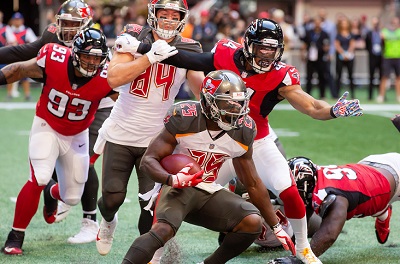 Joe has noticed a faction of Bucs fans that doesn't consider Peyton Barber a No. 1 running back, and these same people get agitated when Joe refers to him as such.
Yes, Barber is a No. 1 back, but what does that mean at JoeBucsFan.com world headquarters?
Well, it means the guy is a legitimate starter in the league. It doesn't mean he's a Pro Bowler or the Bucs shouldn't look for better. However, considering Barber is 24 years old and clearly on the rise, it means the Bucs should feel good about having him as their No. 1.
Twenty-five NFL running backs are averaging 12 or more carries per game this season. Barber is 20th in that category at 12.6. Of all those running backs, only six —SIX! — have more rushes of 20-plus yards than Barber. Fifteen of those 25 full-time backs have a higher-yards-per-carry mark than Barber's 3.7 per game.
Barber is pass blocking well for what might be the NFL's top aerial attack, and he's proven he can catch balls thrown his way in the checkdown game, as well as protect the football.
Back to those 12 carries per game, Joe's cutoff for a full-time load, Barber's career average is 4.03 yards per carry in the eight games he's gotten 12 or more carries.
The Bucs' No. 1 back is solid and should improve. Don't hold it against Barber that Ronald Jones isn't in his league yet.