Crushing Contrast For Jameis
October 28th, 2018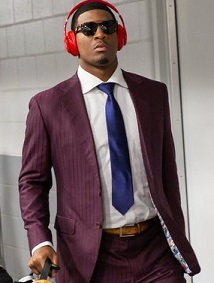 It's one thing for a starting QB to get benched for a journeyman quarterback when he's having a garbage game.
It's quite another thing for the journeyman to step in and light up the scoreboard on the road in just over one quarter of action and tie the score with seconds to play.
Ryan Fitzpatrick replaced America's Quarterback, Jameis Winston, with just over two minutes remaining in the third quarter. The final line on Fitz was 11-for-15 for 194 yards and two touchdowns, plus a two-point conversion throw with the game on the line.
These weren't junk yards on a prevent defense. This was Fitzpatrick thriving in the exact same situations that flummoxed Jameis.
"He goes in after a pick-six, so he had about two minutes to warm up and went in there and played with composure and did a great job bringing us back," Koetter said, after calling Fitzpatrick "fantastic" this afternoon.
The in-game contrast really magnifies the bad vibes surrounding Jameis and it complicates how he'll be evaluated at One Buc Palace.
Former Bucs glory days defensive tackle Booger McFarland took to Twitter before Jameis was pulled for Fitzpatrick and shared that he sees a different offense — in a bad way — with Jameis as the starter.
Remember the body language Evans and Jackson had with Fitzpatrick ? So different now

— Booger (@ESPNBooger) October 28, 2018
Again, the in-game contrast makes Jameis looks extra bad and makes things extra messy for the Bucs' quarterback position. Either way, the Bucs have the worst starting QB in the NFC South, and that's typically a key ingredient in losing football.