Burials, Byes & Buccaneers
October 5th, 2018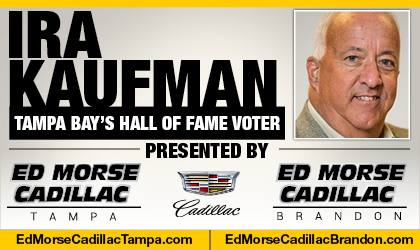 BY IRA KAUFMAN
It's the pause that refreshes. At least it should.
All things considered, this was the opportune time for a Buccaneer bye week. Most teams prefer that breather late in the season to heal up for a playoff push, but Tampa Bay desperately needed this break to regroup following the carnage at Soldier Field.
Franchise history suggests things can change markedly following a week off.
It was only two years ago that the Bucs entered the bye week at 3-5 with a two-game losing streak that threatened to wreck Dirk Koetter's first season at the helm. The response was a five-game winning streak built on the back of fierce defense.
We've also seen evidence how a blowout loss on the road doesn't have to linger.
In 1999, the 9-4 Bucs flew to Oakland and suffered a 45-0 drubbing by Jon Gruden's Raiders, surrendering 262 yards on the ground to Napoleon Kaufman and Tyrone Wheatley, who split four TD runs.
The offense wasn't much better, going 0-for-12 on third down and registering only nine first downs.
"We went out to Oakland and we were down as soon as we landed," recalled Derrick Brooks this week on our "Tampa Two" show for The Identity Tampa Bay and JoeBucsFan.com. "We got back to Tampa and we had a ceremonial burial of that film. I did not even watch that game until the next offseason.

"As players, you have to move on. You can't allow this performance to beat you again coming out of the bye week."
Candid David
Players have scattered, but you can bet Tampa Bay coaches broke down Sunday's Soldier Field debacle in excruciating detail.
"The bye week came at a good time," Jameis Winston said after one of the most discouraging efforts in franchise history. "I just wish we could take this week back, but we can't. We've just got to move forward and be better."
Mike Smith will still be calling the defensive shots as the Bucs prepare for the Falcons, who have averaged 29 points despite a 1-3 start. While teams focus on containing Julio Jones, rookie Calvin Ridley has reached the end zone on 6 of his 15 receptions.
"We were not as good as we thought we were and we're not where we want to be right now as a defensive football team," says Lavonte David. "You all saw it, we didn't look good at all. From every aspect, from start to finish. it was just bad. Bad football all around."
If nothing changes in Atlanta, more than a few Buc fans will write off this season as one big tease. At that point, who could blame them?
The Bounceback
After that humiliating loss at Oakland, the 1999 Bucs beat the Packers 29-10 the following week, forcing four turnovers and limiting Green Bay to 12 yards rushing.
You can bet that tape wasn't buried at One Buc Place.
For the 2018 Bucs, the bye week is a time to heal — physically and emotionally. It's a time to remember all the things you did well those first two weeks.
Most of all, it's a time to realize this season is still very much alive if players and coaches do their jobs with more distinction.
Now in his 40th year covering the NFL, Ira Kaufman is the most revered sports personality and writer in the Tampa Bay area. He scored a full-time seat at JoeBucsFan.com world headquarters in July of 2016. Tampa Bay's only Pro Football Hall of Fame busts out columns here every Monday, Wednesday and Friday, and his award winning podcasts fire Tuesdays and Thursdays. You can also hear Ira on SiriusXM Mad Dog Radio Wednesdays at 5 p.m. Also a TV star, Ira is part of the FOX-13 Tailgate Sunday NFL show at 10:30 a.m. He's also on BayNews 9 Mondays & Wednesdays at 10:30 p.m. He enjoys beet salads, Riesling, tennis, Bette Midler, Chiefs victories and needling Joe. …WATCH IRA AND DERRICK BROOKS on the new TAMPA TWO show from The Identity Tampa Bay and JoeBucsFan.