37 On Track For 1000-Yard Seasons
October 4th, 2018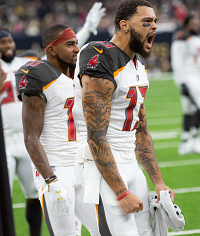 It almost feels like a new NFL, with balls flying through the air like never before as the league tries to keep quarterbacks in layers of bubble wrap.
Look at 2016, 25 pass catchers had 1,000 or more yards receiving (including two tight ends). The year before that, 26 guys busted the 1,000-yard mark. In 2014, Bucs WR Vincent Jackson was the NFL's 23rd-leading pass catcher with 1,002 yards. In both 2013 and 2014, more than 20 could boast about reaching that coveted plateau.
It's become the norm for a No. 1 wide receiver to hit 1,000 yards.
And while last year, the numbers took a step back with only 15 guys reaching the threshold, this season a whopping 37 players are on pace.
That includes two Buccaneers Mike Evans (426 yards) and DeSean Jackson (424 yards). At this rate, they'll each bust 1,000 yards with six games to play. Six!
If you block out all thoughts of the Buccaneers defense — and Joe recommends this for good mental health — these are wildly exciting times for the Bucs offense and fans who have craved offense in Tampa.
If you do want to think about the shoddy Bucs defense, imagine how many yards the Bucs will rack up through the air since they'll be playing catch up in many games.
Joe can't wait to see how America's Quarterback, Jameis Winston, fires away in 10 days against a Falcons team whose defense is just a shade less inept than the Bucs'.
Long term, things will get very intriguing if Jameis can find chemistry with Jackson.
If Jackson finishes, say, with 1,400 yards and eight touchdowns, he'll definitely return next year to bank the $10 million remaining on his contract for 2019. That could make for very interesting decisions by the front office, given all the pending free agents on the team and the $21 million due Jameis.