"Whatever Dirk Decides To Do, I Respect That Because I Respect Him"
September 27th, 2018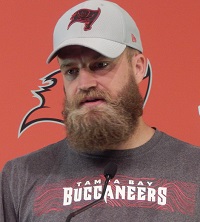 Ryan Fitzpatrick is 23-22 as a starter since the 2014 season kicked off, but he'll accept a benching gracefully and willingly — if it happens — for one big reason.
That was a core message floated in various different ways by Fitzpatrick at his news conference this morning at One Buc Palace. He'll be all good with it because he respects Dirk Koetter implicitly.
Fitzpatrick explained that Koetter has earned that respect of the entire team because he's 100 percent about winning and "he's open; he's honest."
Joe thought this quote by Fitzpatrick summed things up best. "Whatever Dirk decides to do, I respect that because I respect him.
(No, Joe doesn't think Fitz will be benched on Sunday. Joe would easily wager $250 that Fitz is the starter.)
Forget about the quarterback controversy for a moment, it's great to hear Fitzpatrick speak of the allegiance to the head coach and the respect Koetter is commanding. That's almost always a key element to winning. See the 0-3 Raiders.