Uber Driver Sues Jameis
September 19th, 2018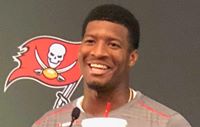 It's the story that won't go away — for the quarterback who is about to return.
What a freakin' mess.
Suspended Jameis Winston is being sued by the former Uber driver in Arizona who claims America's Quarterback touched her crotch without permission back in March 2016.
You know the story, and now her full side of the story is public in a civil suit filed in Arizona (link here). You can read it all in that link. There's nothing much that is new.
Brutal timing for Jameis, and for Bucs fans, and for Team Glazer.
Will Jameis make this go away? Because that's what civil suits are all about.