Toughness Referendum Sunday
September 6th, 2018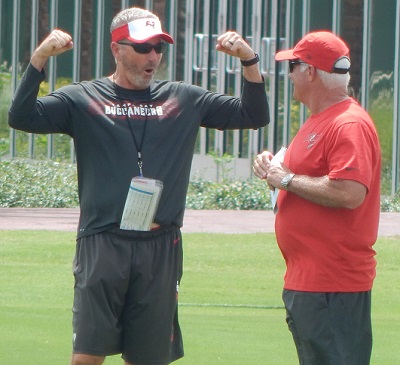 By NFL standards, the Bucs were a soft, mentally weak football team last year when you consider the season in its entirety.
Just look at the inconsistency, the slow starts on both sides of the ball, the inability to close out games on defense, the brutal road blowouts, the drive-killing penalties, etc.
That mental and physical softness is the No. 1 thing that must change Sunday in New Orleans, win or lose. And the beauty of it all — for clarity's sake — is that deep down Buccaneers officials know it.
That's why Jason Licht ran out and traded for Jason Pierre-Paul, a football warrior whose drive wasn't altered by literally having chunks of his hand blown off.
Licht also signed Mitch Unrein, Vinny Curry and Beau Allen, lunch-pail guys from top defenses. And he drafted the biggest manbeast in the draft Vita Vea. Oh, and Licht opened the vault for center Ryan Jensen who was known more for his toughness and angry play than his talent.
It was as if Licht was screaming from the top of One Buc Palace that the team was butter soft in the trenches.
Heck, in chatter that still has Joe flummoxed, Ali Marpet and other offensive linemen talked last year about how they could really use a guy like J.R. Sweezy to rub off some of his toughness on them. Marpet even said that this year (see The Current series) about Jensen.
Dirk Koetter? His hand-picked theme for this season is Discipline Driven. That's code for 'you guys were mentally weak to an unhealthy extreme.'
For Joe, Sunday's game is much more than about a "W" in a brutally tough place to play. It's Step 1 toward restoring fans' faith that they have a team willing to be the most physical every Sunday and dialed in mentally for every snap.
Opening day is a toughness referendum, as will be every game until the Bucs prove they can give that consistent mental and physical effort.
If they can do that, they have enough talent to start the season solidly and rise as a playoff challenger in November. This isn't a team with a rookie quarterback or one with any learning curves within new systems, or lacking in talent. There's enough there to play good football.
Hopefully, the toughness is there from start to finish Sunday. If not, Joe sure hopes the accountability starts Monday, not in December.