Remember A 2-0 Record? It's Been A While.
September 14th, 2018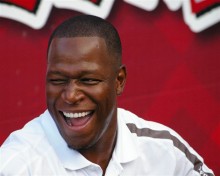 Yeah, it's been a while.
Joe's not sure Tampa Bay fans even remember what it's like to adore a 2-0 football team.
Of course, Joe remembers.
It was back in 2010, before the Bucs set rookie bulldozer Legarrette Blount loose on the NFL. Under second-year coach Raheem Morris, coming off a 2-1 finish to the 2009 season, the schedule gods gifted the Bucs the Browns at home on opening day.
And the Bucs got the job done, a fourth-quarter comeback with Josh Freeman hitting rookie seventh-round pick Sammy Stroughter for the winning TD.
A week later, it was the Bucs defense stifling the QB combination of Matt Moore and Jimmy Clausen in Charlotte — against the Panthers team weeks later would secure the No. 1 overall pick that became Cam Newton.
That 2-0 start bolstered the confidence of an extraordinarily young team that was all-in behind its head coach. Before you knew it, those Bucs were 7-3.
As for other 2-0 starts, you'd have to go back to the Cadillac Williams-fueled explosion in 2005, when the Bucs rode their rookie running back to 4-0 start.
Not even the Super Bowl champion Bucs went 2-0. You'd have to go back to Father Dungy's 2-0 team in 2000.
Yes, the Bucs have quite an opportunity Sunday against the Eagles. A rare excitement and calm would come over Bucs fans, especially considering a 2-0 start against Drew Brees and Nick Foles would be a lot more impressive than what happened in 2010.
It's all right there for the Bucs. Go beat the depleted but highly talented Super Bowl champs.