"Guys Were Hanging All Over Him"
September 10th, 2018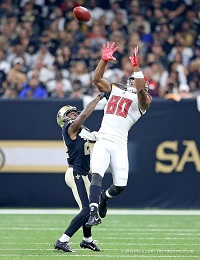 Very much lost in the shuffle of the monstrous offensive explosion yesterday were two beastly catches by tight end O.J. Howard — on the two balls thrown his way.
Two tough grabs totaling 54 yards.
As Dirk Koetter said after the game, "Those were both, guys were hanging all over him. Those were both really pretty plays. But those are the plays O.J. makes in practice. I mean, he makes those plays."
It was a wide receiver kind of day in New Orleans, with Cameron Brate getting shut out after a pass interference call on him in the red zone wiped out his lone catch. But Joe doe doesn't want to discount Howard's impact. Those two plays he made help open up the offense for everyone else.
Damn, Joe wouldn't want to be a defensive coordinator facing the Bucs.
The video below is of the business-like Howard after the game. It very much reflects the all-business tone Joe detected throughout the locker room yesterday in New Orleans. This was no fiesta; it was a happy team that realized this was just one step on the ladder.
Enjoy.