Michael Clayton: High On Fitzpatrick And "Resilience," Down On Godwin
September 25th, 2018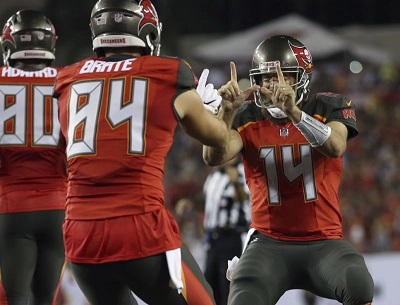 Former Bucs receiver Michael Clayton (2004-2010 preseason) is a busy man these days working Bucs pre- and post-game shows.
And man, does Clayton have a lot to say about the Buccaneers.
Coming out of last night's loss to the Steelers, Clayton had a few big impressions on WDAE-AM 620.
First, take a lot of blame off Ryan Fitzpatrick, he said with passion this morning. Clayton is not putting two of the three Fitzpatrick interceptions on the Bucs' starting QB.
In the postgame locker room, Mike Evans blamed himself for screwing up on a route that led to the first interception, and Clayton explained that Evans should have finished the route by pushing the safety to force 1-on-1 coverage on DeSean Jackson. Fitzpatrick threw to where Evans was supposed to be.
Second, Clayton predicted before the game that Chris Godwin would struggle in the prime-time, playoff-like atmosphere, and Clayton was dropping I-told-you-so's today. In Clayton's world, Godwin dropped two touchdown passes, in addition to his costly fumble, and the moment was too big for him despite making a few plays.
Clayton wanted to see the Bucs force the issue more with seasoned Jackson, one of the great Monday Night Football performers in history, versus pounding Godwin. That said, the former target of Chucky's ire is no Godwin hater. He called him a "No. 1" receiver who just needs more seasoning.
"Resilience" of the Bucs, as evidenced by the second half comeback, really impressed Clayton and he said it further bolsters how much the team believes in Fitzpatrick.