"It Looked Clean As Hell"
September 14th, 2018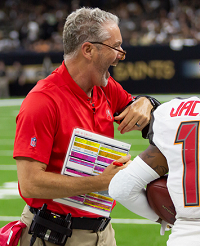 One ex-Buccaneer was highly impressed by the overall operation of the Bucs in New Orleans — outside of the playcalling.
As fans know, Dirk Koetter made the bold career move of turning over playcalling to offensive coordinator Todd Monken. So how did that translate?
Former Bucs tight end Anthony Becht studied all things Bucs-Saints and gave Bucs' game management high marks, as led by a Dirk Koetter who was freed up to interact with all phases of the team.
"I'll tell you what it's done for Dirk, from a game management and engaging with players on both sides [of the ball] and just kind of running the operation, it looked clean as hell," Becht told WIP sports radio in Philadelphia this week. "And I think that was a positive thing, as well, as I watched last game."
On Monken's new role, Becht said he saw improvement in the design of the offense.
"It's been a really nice flow. It seems like there's a little bit more opportunities, play-to-play within the passing game," Becht said. "When I went back and watched the tape, you just saw every play had something for the quarterback to throw and it was well designed. You know, Dirk Koetter still has some say; it's his offense. I think Monken doing a good job in the preseason, it kind of fell in his lap a little bit."
It was just one game, but things were humming along well in arguably the NFL's toughest road environment — except for the Bucs defense. Unfortunately, Dirk Koetter, with his newfound free time, couldn't get out there to rush the passer and cover Michael Thomas.
Becht added the Bucs offensive line was the best he's seen it in a while in New Orleans, though he sees right guard as a weak link leading into the matchup against the Eagles' talented D-line.