Koetter Explains Bad Time Stoppage
September 16th, 2018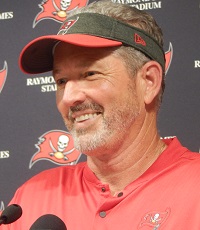 Wait a minute, the Bucs converted a key first down to Mike Evans with just over two minutes remaining and it appeared they could ice the game because the Eagles were out of timeouts.
But then the clock stopped.
And then the Bucs called time out. Ugh! What the heck happened?
The simple explanation from Dirk Koetter was that it was an automatic clock stoppage on the pass interference penalty called on the Eagles. It didn't matter that it was a declined. It's an automatic stoppage, a terrible NFL rule in Joe's opinion.
"In this particular case, that worked against ust, because if we wouldn't have had a penalty there, we would have just had a first down and that would have been game over," Koetter said."It would have gone down to the two-minute warning and they were out of timeouts so we could have run it down."
So there's the skinny on a situation had a lot of Bucs fans annoyed.
Man, the NFL has to change that rule. You're going to reward a defense for a penalty? Ridiculous.