Ira Kaufman's 10 Takeaways From Bucs-Bears
September 30th, 2018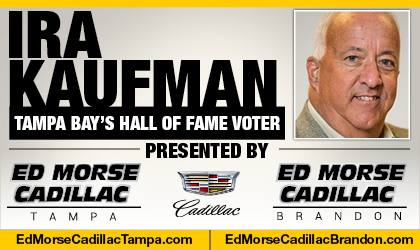 BY IRA KAUFMAN
Admit it.
If you would have known that the Bucs were going to split their first four games this season, you would have been thrilled.
Now, you're pissed.
As they have too many times in recent memory, the Bucs failed to show up for a road game. They deserved every bit of that 48-10 drubbing at Soldier Field, where conditions were perfect and Tampa Bay's execution was anything but.
The calls for Mike Smith's scalp are everywhere about town and I'm not sure F. Lee Bailey in his prime could fashion much of a defense to keep him right now. Monday night's comeback effort obviously had zero effect on the Bucs, who now get a chance to reboot after one of the most lopsided setbacks in franchise history.
And that's saying something.
I picked the Bears to win a squeaker, but even the most ardent Chicago fan couldn't have expected a blowout of these proportions. Perhaps the Bucs can duplicate 2016 and regroup after a bye week.
Perhaps.
Players will scatter next weekend while Jason Licht works the phones, seeking upgrades. See any other Khalil Macks out there, people?
* First, a tip of the helmet to Ryan Fitzpatrick, who gave this organization far more than expected before yielding at halftime Sunday to Jameis Winston. His first two performances ensured that Tampa Bay would not be buried in September, fulfilling the prime function of a backup quarterback in splendid fashion.
* The first half was excruciating to watch for Buc fans as Chicago rolled up 400 yards, averaging an absurd 10.3 yards per snap en route to a 38-3 advantage. Yes, this travesty was worse than Arizona (24-0), Minnesota (21-3), Atlanta (20-6) and New Orleans (16-3) in terms of recent halftime deficits on the road.
* While Tampa Bay's offense couldn't get going, with five punts and two interceptions among its first eight possessions, Smith's defense never gave these guys a chance. Another disaster on the road, where Tampa Bay has now allowed at least 30 points in 8 of the past 11 tests.
* Where oh where is Noah Spence? He didn't play a snap against the Steelers and didn't dress in Chicago. Let's get this straight – the Bucs are down at least two defensive linemen and Spence still can't get on the field? I don't want to hear about who plays special teams, I want to hear about Spence creating some havoc up front.
* Winston tuned up for his start in Atlanta with some garbage-time action and offered a mixed bag. As usual, his energy was impressive and he made some nice throws, but he was also guilty of a few poor reads. The good news is there's no need for any subterfuge from Koetter at the podium next week because this is Winston's team once again.
* While Jason Pierre-Paul continues to show, Kwon Alexander and Gerald McCoy failed to make an impact. Alexander was credited with only two tackles and as a whole, the linebacker corps was exploited all afternoon.
* Giving up big numbers to the Saints and Steelers is one thing, but the plodding Bears suddenly looked like the 1999 Rams, with 10 snaps that gained 20 yards or more. Mitch Trubisky looked like Kurt Warner, Tarik Cohen turned into Marshall Faulk and Taylor Gabriel ran free like Isaac Bruce. Speaking of Cohen, every time I looked, the Bucs were trying to cover him with a linebacker.
* Those defenders would have had a far better chance if Trubisky had been pressured more. One sack and three QB hits isn't going to get it done. On too many throws, Trubisky had enough time to order a deep-dish pizza from Geno's East.
* Besides the physical mistakes, the Bucs weren't up to the challenge from the neck up. They were flagged 11 times for 99 yards and the mis-communication on the back end of the defense was atrocious. I haven't seen guys running this wide open since Showtime, when Magic Johnson was directing the Lakers fast break.
* Despite Sunday's disaster, this season is still very much alive. It's up to the coaching staff and the front office to find a defense and a ground game worthy of complementing all these weapons. The Glazers believe this is a talented roster, not a 7-9 football team. Something has to change in a hurry or there will be significant changes in January.
Now in his 40th year covering the NFL, Ira Kaufman is the most revered sports personality and writer in the Tampa Bay area. He scored a full-time seat at JoeBucsFan.com world headquarters in July of 2016. Tampa Bay's only Pro Football Hall of Fame busts out columns here every Monday, Wednesday and Friday, and his award winning podcasts fire Tuesdays and Thursdays. You can also hear Ira on SiriusXM Mad Dog Radio Wednesdays at 5 p.m. Also a TV star, Ira is part of the FOX-13 Tailgate Sunday NFL show at 10:30 a.m. He's also on BayNews 9 Mondays & Wednesdays at 10:30 p.m. He enjoys beet salads, Riesling, tennis, Bette Midler, Chiefs victories and needling Joe. …WATCH IRA AND DERRICK BROOKS on the new TAMPA TWO show from The Identity Tampa Bay and JoeBucsFan.