"Fistfight" Prep And A Run Game In Waiting
September 22nd, 2018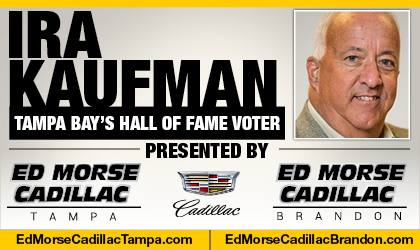 BY IRA KAUFMAN
Another week, another stiff challenge for the grinders up front, the guys who make it happen for the NFL's top-ranked offense.
You heard me correctly — No. 1.
Ryan Fitzpatrick deserves all the plaudits coming his way, but it doesn't happen without the trench warriors. Those long completions don't happen unless Donovan Smith, Ali Marpet, Ryan Jensen. Caleb Benenoch, Demar Dotson and Evan Smith excel in the protection racket.
Tampa Bay's ground game may be struggling at the moment, but those concerns have been eclipsed by a passing attack we've never seen in these parts.
And it's not like the offensive front has had it easy. Cameron Jordan, Fletcher Cox and Michael Bennett are among the NFL's elite defensive linemen and here comes Pittsburgh's T. J. Watt, who opened the season with three sacks against Cleveland.
And guess who's waiting on deck? Jon Gruden's blood brother, Khalil Mack.
First Look
The Browns and Chiefs shredded Pittsburgh's blitz-happy defense, but the 3-4 alignment is designed to cause havoc.
"That scheme's been around for a long time and it still works in the NFL," says Evan Smith, who has been spelling Benenoch at right guard.

"It's going to be a fistfight of a game. They'll blitz you in run downs, they'll blitz you in pass downs. They blitz more run formations than other teams, canceling gaps, guys running free.

"If you see it and you can catch them in it, you can get explosive plays. They're there to be had, but everyone has to be on the same page … communication has to be at an all-time premium this week."
Continuity always helps up front.
Tampa Bay's offensive line is healthy, but there's more to the script than the medical chart. The Bucs didn't make a change up front last year through 11 games and nobody was gushing about a clean pocket.
August Extension
Signing Jensen as a free agent has already paid big dividends, shoring up two positions. He has added a nasty tone as the anchor while Marpet is mauling opponents at his natural guard spot.
"In the preseason, we felt we were playing at a high level," Marpet says. "A bunch of us have been in this system for awhile and Fitzy has really been getting the ball out pretty quick. He's having fun and we pick up on that. At the same time, our run game is not where we want it to be. We need to be better, cleaner technically."
Watt has been very effective lining up wide on the left side of Pittsburgh's defense. At times, Watt will be Dotson's responsibility, but Tampa Bay's tight ends will also be asked to slow J.J.'s younger brother down.
Give Buc running backs some street cred for helping out through two weeks. Peyton Barber and Jacquizz Rodgers have blocked effectively, giving Fitzpatrick enough time to find all those play-makers.
"I'm having a blast," Barber says of the 2-0 start. "Our line is doing a great job protecting Fitz. As a back, I know my time's coming.  I just have to be patient. If we stick to our game plan and we execute, I feel like we'll have a big day, passing and running."
Now in his 40th year covering the NFL, Ira Kaufman is the most revered sports personality and writer in the Tampa Bay area. He scored a full-time seat at JoeBucsFan.com world headquarters in July of 2016. Tampa Bay's only Pro Football Hall of Fame busts out columns here every Monday, Wednesday and Friday, and his award winning podcasts fire Tuesdays and Thursdays. You can also hear Ira on SiriusXM Mad Dog Radio Wednesdays at 5 p.m. Also a TV star, see Ira . Ira is part of the FOX-13 Tailgate Sunday NFL show at 10:30 a.m. He's also on BayNews 9 Mondays & Wednesdays at 10:30 p.m. He enjoys beet salads, Riesling, tennis, Bette Midler, Chiefs victories and needling Joe.