Falcons Sign Two Ex-Buccaneers
September 10th, 2018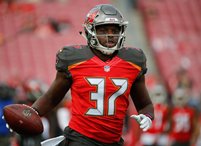 New life for a couple of ex-Bucs.
The rival Falcons jumped into the free agent market today and scored two former Buccaneers — one recently launched and one Lovie Smith once called a "prototype."
Defensive end Stephen Means, a Bucs fifth-round pick in 2013, earned an Eagles Super Bowl ring but was cut before this season after joining Philly in 2015. He's now with Atlanta, along with Schiano-era Buccaneer Keith Tandy, who was among the Bucs' final cuts two weeks ago.
Assuming Tandy sticks, you just know the Falcons defensive coordinator and head coach will pump him for information about the Bucs defense. The Bucs make a trip to Atlanta out of their Week 5 bye.
Joe wonders whether they'll ask, 'Why didn't anyone cover Michael Thomas yesterday Julio Jones last season?"
As for Lovie's "prototype," that was Means.