Drew Brees Talks Bucs Linebackers, Gerald McCoy
September 7th, 2018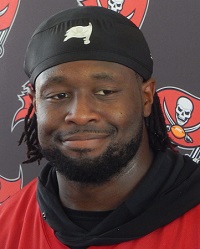 While the Vegas oddsmakers and pundits around the country are laughing at the Bucs' chances Sunday against the Saints — Boomer Esiason of CBS thinks New Orleans will be in the Super Bowl — the opposite vibe coming from where the Bucs are known more thoroughly.
Joe's talking about the mouth and mind of Drew Brees.
Enjoy the Nola.com video of Brees below. His seriousness is intriguing as he talks about the greatness of the Bucs linebackers and Gerald McCoy.
As Joe has studied what's been going on throughout New Orleans this week, it's clear the Bucs primarily are viewed as the team that stormed back with 18 fourth-quarter points on New Year's Eve to beat New Orleans 31-24 — when the Saints believed they desperately needed the win to clinch the NFC South crown.