Donovan Smith Returns To Practice (Video)
September 5th, 2018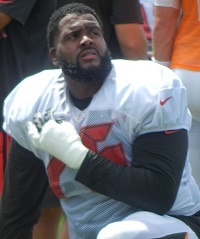 Oh, happy day.
Bucs fans should be exhaling when they see this.
Ironman left tackle Donovan Smith returned to practice today, his first field appearance in two weeks after limping off the field in training camp.
He sure didn't look limited in the limited window open to media today. You can see Joe's short video below.
With Smith now sure to start Sunday, assuming his knee is fine after practice, and Caleb Benenoch announcing he's the right guard starter (see home page story), the Bucs have to feel pretty darn good about their offense. All systems go, minus the strong Ronald Jones effect. But hey, maybe Jones will explode out of nowhere with the handful of touches he likely gets in the SuperDome.