"Darkhorse"
September 10th, 2018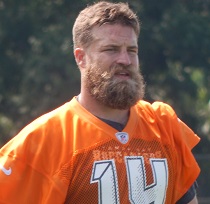 Man, how perceptions change in just four hours.
Before the Bucs-Saints game kicked off the season yesterday, only a drunkard believed the Bucs could go into the Superdome and knock off the defending NFC South champions with a backup quarterback. (Yes, one "Joe" predicted a 30-28 Bucs win in the Ira Kaufman Podcast and he was not drunk.)
In fact, some believed last week that the Bucs would be in the running for the top overall pick in the draft.
Then yesterday happened. The Bucs, behind backup quarterback Ryan Fitzpatrick, couldn't be stopped.
Gary Grambling of theMMQB.com believes that when America's Quarterback, Pro Bowler Jameis Winston, returns after his three-game suspension, watch out NFL!
We've gotten a little carried away with Ryan Fitzpatrick in the past, so let's not get fooled again, but he just lit that Saints defense on fire. The Bucs were at risk of falling off the face of the Earth early on, with no Jameis Winston and a tough early slate. Considering the upgraded defensive line (which was better on Sunday), and now a divisional road win under their belts, you can slide Tampa back into "darkhorse" status in the NFC.
Damn, this just makes Joe's day. Just two day ago, the Bucs, in the minds of many across the country, were worth slightly more than the puke lining the gutters of Bourbon Street at 4 a.m. on a Friday night. Now they are talked about as a darkhorse playoff contender.
Yesterday, the Bucs made football fun again.
Who are these guys?