Ira Kaufman's 10 Takeaways From Bucs-Steelers
September 25th, 2018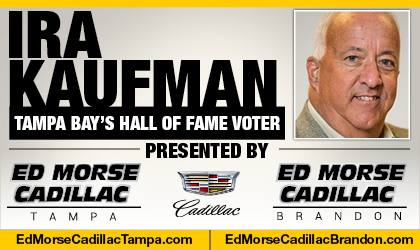 BY IRA KAUFMAN
Grit, but no glory.
It was a tale of two halves at Raymond James Stadium Monday night and while the Bucs displayed character and resolve, the Steelers won a close game on the road by capitalizing on some sloppy play.
Pittsburgh hardly played a clean game, incurring 13 penalties for 155 yards, but Mike Smith's defense didn't make enough stops.
A 2-1 record should be a point of pride, especially considering the rugged schedule, but the prevailing sentiment in the Tampa Bay locker room is this was a game the Bucs should have won.
Here's how it went down in prime time:
* After offering Ryan Fitzpatrick stellar protection through two weeks, Tampa Bay's offensive line wasn't stout enough against the blitz-happy Steelers. Fitzpatrick was sacked three times and hit on 13 other occasions, Ex-Gator Jon Bostic was a pest all evening, registering 6 tackles, one sack, two tackles for loss and a critical tip that caused an interception.
* No sweat. Not a drop of perspiration could be seen on Noah Spence as he walked toward the locker room after the game. You know why? Besides Ryan Griffin, Spence was the only Buc player who dressed and did not play. He's healthy and he didn't get a snap — despite 41 passing attempts by Ben Roethlisberger. Tell me that's not a problem.
* The return of Brent Grimes will pay dividends for this young secondary, but he whiffed on a key tackle against All-Pro WR Antonio Brown, resulting in a 27-yard TD. Grimes is a pro's pro and he will work hard to get back into football shape, but he's had better games.
* Roethlisberger went down three times, but Brentson Buckner won't be happy with the overall pressure, especially when you consider 3-time Pro Bowl guard David DeCastro didn't play for Pittsburgh due to a fractured right hand.
* A national TV audience witnessed the mother of all stiff arms when 267-pound TE Vance McDonald lowered his right hand to the helmet of 203-pound Chris Conte. The play resulted in a 75-yard TD that gave Pittsburgh momentum after an early 7-0 deficit.
* Steeler Nation was out in force. Yes indeed. I was in the tunnel near the end of the opening half, talking to some of Tony Dungy's former players, when I heard thunderous cheers. Just when I figured the Bucs were on the comeback trail, I realized the screams were for two Pittsburgh touchdowns.
* Chris Godwin's fourth-quarter scoring catch came after a nifty double move that befuddled veteran CB Coty Sensabaugh. Watch it again on replay and you'll think it was future Hall of Famer Larry Fitzgerald running a precise pattern.
* Perhaps the Buc pass defense can catch a break in the Windy City, where Mitch Trubisky is in no danger of being compared to Drew Brees or Roethlisberger. Something has to change because opposing QBs arecompleting 78 percent of their pass attempts against Tampa Bay.
* Jameis Winston is now eligible to return to One Buc Place and Mike Evans anticipates that the presence of No. 3 will add a little more energy to the building. Let the Fitzpatrick/Winston debate begin in earnest, but it's not going to be easy to bench a guy averaging 11.1 yards per pass attempt.
* When you're 2-0, you're hungry to make it 3-0. That didn't happen for the Bucs, but a 2-1 mark at this point is more than their supporters could have asked for. A victory in Chicago would make it a very sweet first quarter of the season.
Now in his 40th year covering the NFL, Ira Kaufman is the most revered sports personality and writer in the Tampa Bay area. He scored a full-time seat at JoeBucsFan.com world headquarters in July of 2016. Tampa Bay's only Pro Football Hall of Fame busts out columns here every Monday, Wednesday and Friday, and his award winning podcasts fire Tuesdays and Thursdays. You can also hear Ira on SiriusXM Mad Dog Radio Wednesdays at 5 p.m. Also a TV star, Ira is part of the FOX-13 Tailgate Sunday NFL show at 10:30 a.m. He's also on BayNews 9 Mondays & Wednesdays at 10:30 p.m. He enjoys beet salads, Riesling, tennis, Bette Midler, Chiefs victories and needling Joe.