Another NFL Mark For The Passing Offense
September 26th, 2018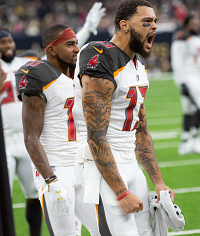 Yes, the greatness you're seeing hasn't been accomplished before on various levels.
As everyone already knows, Ryan Fitzpatrick is the first QB in NFL history to throw for 400 yards or more in three consecutive games. That's correct, Dan Marino, the Manning brothers, Drew Brees, nobody else has ever done it.
Now via the Twittering of Scott Smith, official Buccaneers multimedia guru and writer, we learn that DeSean Jackson and Mike Evans have combined for a new NFL record.
@ScottSBucs – DeSean Jackson (312 yards, 3 TDs) & Mike Evans (367 yards, 3 TDs) are the first pair of teammates in NFL history to each record at least 300 receiving yards and three touchdown catches through their team's first three games of a season.
And to make it even more fun, after Monday's loss to the Steelers, Dirk Koetter said he wanted more attack mode from his wide receivers, something Koetter felt he didn't get completely in the first half of that game.
For those keeping score, Chris Godwin also is on pace to catch about 70 balls for just under 1,000 yards and 16 touchdowns.
Will the Bucs pass protect well Sunday against a fierce Bears defense? That might be the only way they win and keep these incredible passing numbers going.