VIDEO: "Get Really, Really Good At Your Job"
August 6th, 2018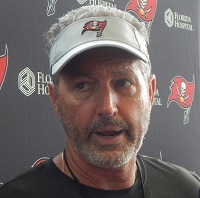 Very rare post-Hard Knocks look at Dirk Koetter directing his Buccaneers.
It's hardly the most impressive thing you'll every see, but it's a little meat that we're not accustomed to seeing.
The official Buccaneers cameras and microphones caught Koetter ordering his troops to focus on their own greatness and stop playing referee — because they "suck" at it worse than he does.
Then it's Keith Tandy stepping in to try to inspire the club. Video below, as shared today by the Bucs.
"Get really, really good at your job. If you do that, we're gonna have a good football team."

🗣 » HC Dirk Koetter#GoBucs pic.twitter.com/ZIhGQoiStJ

— Tampa Bay Buccaneers (@Buccaneers) August 6, 2018