Vernon Hargreaves Returns
August 21st, 2018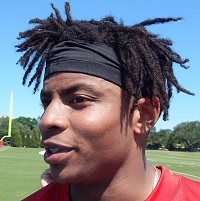 A major Buccaneers X-factor entering this season (before today's scary Donovan Smith injury), Vernon Hargreaves endured a groin issue 12 days ago in the preseason opener at Miami.
Last week he spent a lot of time riding the exercise bike in Nashville, and yesterday he wasn't practicing in Tampa but was working on the field with staff.
Today, he was back practicing in pads and impressing his head coach.
"He looked really good," Dirk Koetter said of Hargreaves. "Vernon looked quick. He looked fast. He was communicating. He had a nice sack out there in team period, so it was good to have him back."
This sets up one heck of a third preseason game on Friday against the Lions and their strong passing attack. The No. 2 cornerback job opposite Brent Grimes is up for grabs and Hargreaves wants it — even if there's a long line of experts who think he's best as a nickel corner.