Saints Watch: 19 Days
August 21st, 2018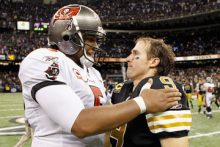 Joe can smell the scent of real football. We're inside the 20-day mark, which means Joe's eyes have turned to the Saints in great detail. 
Every day leading up to the opener in New Orleans on Sept. 9, Joe will offer up an interesting Saints nugget.
Enjoy!
So Joe sat down to watch the Saints-Cardinals preseason game on NFL Game Pass last night only to find that Drew Brees did not play — and he's not hurt … and he hasn't played all preseason.
Beastly Pro Bowl defensive end Cameron Jordan also got the night off. Keep in mind the Bucs' first team defense played nearly all of the first half on Saturday against the Titans.
There are so many ways to prepare a team for opening day. Keep in mind the Saints are on a four-game, opening-day losing streak — and a three-game skid in home openers — so it's not like New Orleans head coach Sean Payton has some sort of magic formula. The Bucs are 2-0 in season openers for Dirk Koetter.
Rookie DE Marcus Davenport, the Saints' first-round pick, remains in street clothes injured, as is DE Alex Okafor. Both were coveted by many Bucs fans this offseason. Guard Landon Turner, TE Michael Hoomanawanui and CB P.J. Williams also skipped the game.