"Mike Smith Loves Having Corners In Off Position"
August 10th, 2018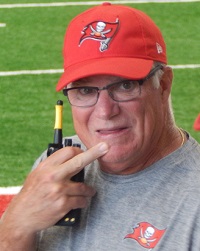 Just in case you were baffled watching cornerback Ryan Smith repeatedly line up nine yards off wide receivers last night (and it wasn't just Smith), a Bucs legend has a reason for you.
As if Bucs fans didn't already kinda figure this out, Ronde Barber said on the WFLA-TV broadcast that defensive coordinator "Mike Smith loves having corners in off position."
Yeah, Joe likes to quote Barber because Barber talks to Smith and all the power brokers at One Buc Palace. Heck, two years ago, Barber called Smith the "nicest guy in professional football." Barber knows and respects Smith, and he's also pals with general manager Jason Licht. So Barber's comments bring deep meaning.
This whole "off position" thing has its upside but not when talent is lacking at cornerback and the pass rush is anemic. It's a big part of what punished the Bucs last season.
Early last night against the Dolphins, the Bucs had a near interception when Vernon Hargreaves blitzed, coverage was tighter and Justin Evans was aggressive. No coincidence. But of course, you can't live by that model throughout a game.
It'll be very interesting to see how Mike Smith does or does not adjust this season. …See a good off-coverage sample below from last night.
Fales ➡️ Owusu

This 45-yard completion set up a Greg Joseph FG.

📺 » @CBSMiami#TBvsMIA #FinsUp pic.twitter.com/MsnhchFE9Z

— Miami Dolphins (@MiamiDolphins) August 10, 2018