Matching The Carson Palmer, Cam Newton Profile
August 6th, 2018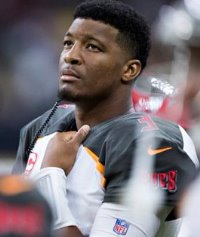 America's Quarterback, Jameis Winston, is a lot of things, but he's rarely compared to Carson Palmer and Cam Newton.
Perhaps he should be.
That's the word from one of the premier, stat-obsessed  PFF tribesman Steve Palazzolo. The former minor league pitcher has crunched all kinds of numbers to rank every starting QB in the NFL. He's got Jameis at the bottom of the middle-of-the-pack.
The PFF data shows Jameis as a quarterback with a giant ceiling and a propensity to embrace danger.
19. JAMEIS WINSTON, TAMPA BAY BUCCANEERS

2017 Cluster: 3

A highly-volatile passer throughout his career, Winston had the second-highest percentage of positively-graded throws last season, but also ranked 36th out of 41 qualifiers at avoiding turnover-worthy plays. He's capable of carrying a passing offense due to his ability to throw with anticipation and drive the ball down the field, but he must cut down on the mistakes that have plagued his first three years in the league (and his last season at Florida State). On the bright side for Bucs fans, quarterbacks with Winston's profile have shown capable of putting it all together in one-season stretches (Carson Palmer, Cam Newton), so a top-notch season could be in the cards at some point.
Reasonable assessment here, but Palazzolo has Jameis as the 13th best QB in the NFC. That's harsh. Joe would argue that Jameis is 8th, 9th or 10th-best.