Koetter: "Sluggish" Practice For Bucs
August 11th, 2018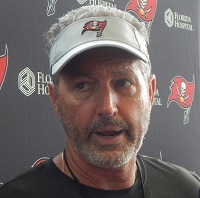 Who's pumping up this team behind the walls of One Buc Palace?
C'mon!
Dirk Koetter wants a "badass" football team. Joe wants one, too. That starts now. Just ask the Jaguars, where the whip is being cracked harder on players in training camp this summer, per reports from local newspapers there.
After practice today, one that was spent half indoors in air conditioning with thousands of fans driving the energy, Koetter said the Bucs were "sluggish" but finished a little stronger.
"I'm not going to lie; I don't think those guys were crazy about practicing today," Koetter said. "But it's training camp and we got to work. We need the work. I thought coming in here today with the fans and the A/C, that juiced them up a little bit. The finish was better than the start. You know, we'll go in and correct it, and the players are off tomorrow, and I'm sure they'll be happy about that."
Yes, August is a grind. But the Bucs are supposed to be a disrespected bunch of angry dogs salivating to right the terrible wrongs of 2017. Right?
Joe wants to see that mentality and that hasn't been the case with any kind of consistency.
Today's sluggishness is even more disappointing considering a national SiriusXM NFL Radio crew was in town watching practice for a Bucs-focused special, and their time in camp often shapes national perception of the team for months to come.