Ira Kaufman's 10 Takeaways From Bucs-Fins
August 9th, 2018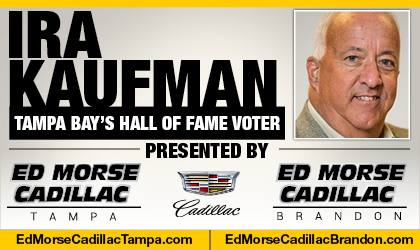 BY IRA KAUFMAN
The Bucs had lost five consecutive preseason openers, so there are plenty of positives to feel good about after Thursday night's victory.
There were also several areas of concern because the Dolphins moved the football up and down the field all evening. Let's give Tampa Bay an overall grade of "B" as the Bucs move on to next week's scrimmages and matchup in Nashville.
Here are 10 of the particulars:
* Ryan Griffin was the best player on the field, and it wasn't even close. Griffin threw with touch, he threw with zip and he threw with precision. Yes, he was playing against Dolphin reserves, but let's not forget he wasn't throwing to Mike Evans, DeSean Jackson or Chris Godwin, either. And before you entertain any silly notions — Ryan Fitzpatrick is still starting Week 1.
* Todd Monken did a nice job calling plays. He kept Miami defenders off balance for much of the night, although those screen passes are a work in progress. The Bucs just posted their highest score in a season opener since 2003, when they were defending Super Bowl champions.
* Ryan Smith may have sealed the win with a last-second pick,but that doesn't make up for his continual struggles. The Bucs have tried him at safety and corner without much success and it shouldn't surprise anybody if he doesn't make the final roster.
* Hard Rock Stadium recently received a $450 million facelift, but Miami executives should have placed some additional funds in escrow so they can pay fans to show up. Thursday's crowd size was a disgrace, even considering the game doesn't count in the standings.
* Chandler Catanzaro's Buc debut didn't go exactly as planned. Mr. Automatic pulled his first PAT and his long FG try never had a chance, remaining wide of the right post. Had he shanked that final FG attempt, Catanzaro would have been wise to avoid Dirk Koetter in the locker room.
* While Jason Pierre-Paul was killing it off right end in the opening quarter, Vinny Curry found himself manhandled off left end. I'll chalk it up to a veteran easing himself into the season, but Curry won't like the tape.
* Peyton Barber has a habit of falling forward for that extra yard. You can't teach that kind of determination.
* Carlton Davis and M.J. Stewart both had their impressive moments as rookie cornerbacks, but I've already grown tired of hearing about Davis' long arms. The last Buc CB lauded for his length was former second-round pick Johnthan Banks, who played for four teams in the last five years without registering an interception. He's now out of football.
* Is it me, or does Cameron Brate catch every single pass that hits his hands?
* Very solid efforts by Fitzpatrick and Jameis Winston, who is eating a lot of humble pie at the moment. Koetter can't help but hold his breath whenever Fitz starts to scramble.
Breathe, Dirk, breathe.