You Are Darn Right It Matters In Tampa
August 20th, 2018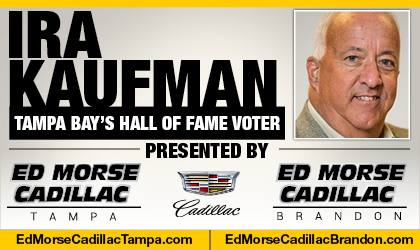 BY IRA KAUFMAN
These games don't count. The NFL preseason is meaningless. Nothing of consequence can occur in August, except injuries.
Yeah, right.
Exhibition games may not count, but they matter, especially for a woebegone franchise like the Bucs. In the National Football League, winning is a habit. So is losing.
Guess which group the Bucs have signed up with during their lost decade?
Saturday night's decisive victory at Tennessee gives Tampa Bay its first 2-0 August start since 2008, Jon Gruden's final year in pewter. That also happens to be the last time the Bucs entered the regular season with the momentum of a winning record.
Avoiding major injuries will always be the top priority in August, and the Bucs have been somewhat fortunate in that regard. But forging a winning culture ranks a close second for a franchise weighed down by the second-longest playoff drought in the league.
In beating the Dolphins and Titans on the road, the Bucs have consistently showcased their dynamic weapons in the passing game.
Mike Evans makes a terrific adjustment to haul in a long pass along the sidelines. Cameron Brate does what he does, coming down with the football in heavy traffic over the middle. Chris Godwin outworks defenders to grab Jameis Winston's frantic heave in the end zone.
DeSean Jackson goes deep, outracing much younger corners at the age of 31. Rookie Justin Watson runs a precise route and sticks the landing for a touchdown.
With Todd Monken once again calling the plays, the Bucs rolled up 302 yards in the opening half. Preseason or not, Buc fans aren't used to that kind of attack.
Heck, a year ago, Tampa Bay scored a total of 43 points in four exhibition games.
Highs, Lows & Chemistry
And while rookie Ronald Jones is struggling, Peyton Barber looks every bit like a No. 1 back. Jones needs more patience. He has a tendency to bounce every run outside before the blocking develops.
Trust your linemen, young man, or they won't trust you.
Through two games, Winston's right shoulder appears fully healed and his legs are fresh. On the Hail Mary TD throw to Godwin, Winston says he knew the Titans were going to be flagged on the play, so he felt he had a free down. If that's not the case, it was a poor decision with a successful outcome. I'll let Dirk Koetter handle that one.
The games may not count, but aspects of these games speak loudly. Tampa Bay has converted 13-of-29 on third down while opponents are 8-for-27. That's a major improvement.
It appears Jason Pierre-Paul may be as much of a factor defending the run as he is on the pass rush. That's double trouble for opposing offenses.
M.J. Stewart seems to have a knack for dislodging the football. Will Gholston may have saved his roster spot with a solid effort in Nashville.
The offensive line was erratic — too many penalties, not enough push.
Ryan Fitzpatrick wasn't sharp. His passes were out of rhythm, and that simply won't do in New Orleans.
Roger Goodell wants to reduce the number of preseason games, and I say bravo.
"There's value to them, building a team, evaluating players, but there are other ways of doing that," says the NFL commissioner. "Almost every coach has agreed we could get done what we need to in three games."
Three games, four games … whatever. All I know is this Buc team is building chemistry and building trust.
That counts, even in August.
Now in his 40th year covering the NFL, Ira Kaufman is the most revered sports personality and writer in the Tampa Bay area. He scored a full-time seat at JoeBucsFan.com world headquarters in July of 2016. Tampa Bay's only Pro Football Hall of Fame voter, Ira busts out columns here every Monday, Wednesday and Friday, and his award winning podcasts fire Tuesdays and Thursdays. You can also hear Ira on SiriusXM Mad Dog Radio Wednesdays at 5 p.m. during football season. Also a TV star, see Ira now on Mondays at 10:30 p.m. on Spectrum Sports 360 (aka BayNews 9). Ira also is part of the FOX-13 Tailgate Sunday NFL show and enjoys beet salads, Riesling, tennis, Chiefs victories and needling Joe.