"He's Better At Everything Than You Think That He Is"
August 12th, 2018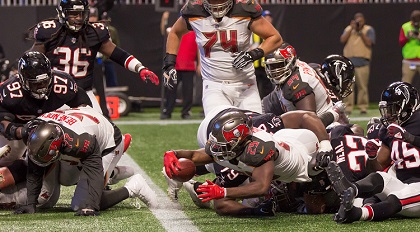 What could be more fun and interesting for a guy like Joe than getting quotes from a hidden Dirk Koetter conversation.
Well, Joe can think of a lot of things, but that's not the point here.
Before every NFL preseason game, the TV broadcast crews of those game sit down for a chat with the head coaches. That helps them fill the broadcast with knowledge (hopefully) and insider insight.
Ronde Barber calls the Bucs preseason games with Chris Myers and Barber shared many goodies from his pregame chats with Koetter and other Bucs. But one was extremely memorable because Barber claimed it was a direct quote and gave a bit of a dramatic reading of it on the WFLA-TV, Ch. 8, broadcast.
The topic was Peyton Barber and Koetter's deep admiration for his top-dog back.
"I loved what Coach Dirk Koetter told us about Peyton Barber this morning when we sat down with him. And I quote; he said, 'every time you underestimate him, he exceeds. He's better at everything than you think that he is,'" Barber said. "I love that he has that confidence in this kid. He'll be your starting running back this year, I think."
This deep Barber love doesn't surprise Joe. The guy proved himself last season and Koetter is a loyal guy. Remember, and don't ever forget, Koetter believed Doug Martin was his best running back for many, many weeks last year. So consider how good Koetter must consider Barber to be after Barber outplayed Martin by a mile.
Heck, Joe's been typing on these pages for months (and has taken a beating for it) that rookie Ronald Jones should expect to get maybe 10 carries a game, assuming no injuries to the running backs corps.
That will be the case until Jones proves he deserves more.