Happy TENTH Birthday To JoeBucsFan.com
August 7th, 2018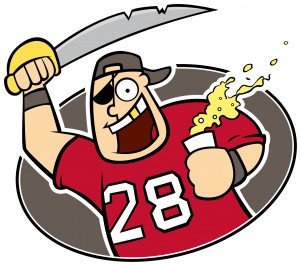 Exactly one freakin' decade ago, Joe fired up this website and never turned back — obsessing 24/7 about all things Buccaneers on these pages.
It all started with a laptop, a dream and Joe's beloved Bucs — and about $500.
About two years before JoeBucsFan.com was born, Joe hatched a plan to cover the Buccaneers in a way that would entertain and interest Joe, something edgy, fresh and unlike the extraordinarily stale traditional media stuck — and paralyzed — by a 1980s mentality and inflated egos.
A defunct NBA site called JoeNetsFan.com was the inspiration for the name and the spirit, but Joe decided to bring a different angle, the whole third-person "Joe" thing.
Joe pounded away for months on these pages writing passionately for almost nobody. Traffic grew slowly while Joe endured endless personal attacks — which continue today — the result of rattling the cages of Bucs fans, the Bucs front office, and Joe's media brethren who were blind to the future of sports media.
Man, major media outlets could have buried Joe years ago if they had the foresight; they certainly had the resources. Heck, they certainly could have bought Joe out. But these stubborn mules decided to stick to their failing models.
Joe pressed on, confident more fans would keep buying into Joe's unique brand of journalism that continues to be like no other in the NFL world. Thankfully, Bucs fans kept coming in droves.
Yesterday, JoeBucsFan.com enjoyed a rather typical day, about 20,000 actual visits to the website. Joe's traffic keeps growing and it's reached the point where Joe now is the only destination for legions of Bucs fans. In 2018 alone, more than 1 million unique visitors will bust more than 7 million actual visits to JoeBucsFan.com. The engagement rate (industry term) of Joe's audience is one of the best in the entire sports world.
Every major tracker of Internet traffic puts Joe on the top of the heap when it comes to Bucs sites. Believe Joe, if the other guys could call themselves top dogs, they would.
The ride has been wild (Joe could write a book about all kinds of bizarre sh** he's experienced), and Joe appreciates all readers. This site is for every Bucs fan, always has been.
Birthday Wish
Joe has a special birthday wish this year, one that Joe can share with everyone here. All Joe wants is a winning Bucs team.
Enough already with the losing. No playoffs since 2007 is a flat out embarrassment and it's wearing on Bucs fans, especially Joe.
And as much as Joe wants Ws, Joe also wants to be able to finish watching at least four out of five Bucs games this season and confidently proclaim Tampa Bay was the hungrier and more physical team — win or lose.
It's not too much to ask. Again, win or lose.
Joe wants a team to be proud of. No more soft, mentally-weak inconsistency. Dirk Koetter had it right when he said he wanted a badass football team.
Now it's time to deliver.