"Fascinating"
August 30th, 2018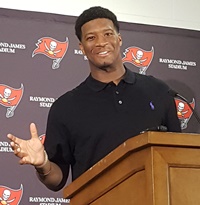 Bucs fans hounding Joe about why he calls Jameis Winston, "America's Quarterback," runs in spurts.
Here is more evidence for the confused to chew on.
Few quarterbacks move the needle quite like Jameis. Tom Brady, certainly. Aaron Rodgers, possibly, but that's only when one of his celebrity girlfriends has something to say. Maybe the rare times Drew Brees spouts off, but that's it and even then that's a stretch.
Hell, if Jameis accidentally sneezes on a homeless person while handing out a warm meal, the general quarters alarm sounds at BSPN, NBC Nightly News springs into action and the local media outlet that uses a 19th-century delivery model runs screaming banner headlines the next day claiming Jameis is an unsavory character unfit to be a member of the local NFL squad that has been anchored in last place seven of the last nine seasons.
(By the way, said newspaper will no longer be able to use the excuse our 45th president is to blame for its red-ink ways.)
As the reporting frenzy continues, TMZ correspondents ambush Jameis' teammates at airports and stalk other Bucs players at night clubs asking about their quarterback.
But sober people are seeing the light. In fact, the stat geeks continue to conclude what Joe had all along: Jameis is a special, special talent.
Take Billy Barnwell of BSPN. He published a list recently of the most fascinating people in the NFL. And guess who is No. 3 on the list? That's right, Jameis.
Barnwell's numbers led to his conclusion that, yes, Jameis is a good if not elite quarterback.
Winston produced the best four-game stretch of his career after returning from injury last season, a run in which he completed nearly 72 percent of his passes while averaging 9.3 yards per attempt and throwing for eight touchdowns against two picks. He improved in virtually every statistical category I can find and was better than league average by the vast majority of measures.

We should be looking at a potential Pro Bowl season for Winston. Instead, he is suspended for three games after allegedly groping an Uber driver in Arizona in March 2016. This is a critical year for Winston's development, but that has far less to do with what he does on the field than how he acts off of it. Can the Buccaneers justify giving an eight-figure contract to a quarterback who has repeatedly been accused of sexual misconduct and doesn't appear to be learning any lessons? Should we even be asking the question?
Yet there is still a vocal gang that hollers for the Bucs to unload him. Really!
The Bucs have the best quarterback in franchise history not named "Steve Young" — who unlike Jameis never had a winning season with the Bucs. And people want to run the guy off… for what exactly? Good grief!
Somewhere, Ray Lewis and Ben Roethlisberger are laughing their @sses off.