"Dude's Still Competing Like Nothing Ever Happened"
August 17th, 2018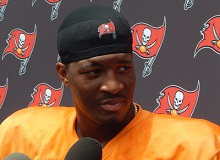 It is possible that the mess America's Quarterback got himself into with the NFL, a three-game suspension that included the NFL labeling him a sexual offender, has led to Jameis Winston earning heightened respect from his teammates?
Some say how one deals with adversity is as telling and important as avoiding the adversity. And it seems a bit of that philosophy is pulsating through One Buc Palace.
On Wednesday in Nashville, DeSean Jackson was talking to Joe and Tennessee-based reporters and dropped a line about Jameis that came with great respect and marvel in his voice.
"Dude's still competing like nothing ever happened," Jackson said of the aftermath of the Jameis suspension.
And there Jameis was at that moment, working hard in uniform after an extra-long practice in the heat as his teammates bolted for air conditioning or had stripped off their gear and were relaxing.
Earlier in the week, Joe had talked to Evan Smith about Jameis, and Smith said he was struck by how professional and workmanlike Jameis has been with the second- and third-team offensive players. Smith said he's confident the Bucs, as an offense, will be a lot better off for years to come because of Jameis getting to rub off more than usual on the guys closer to the bottom of the roster.