Dominant Summer
August 8th, 2018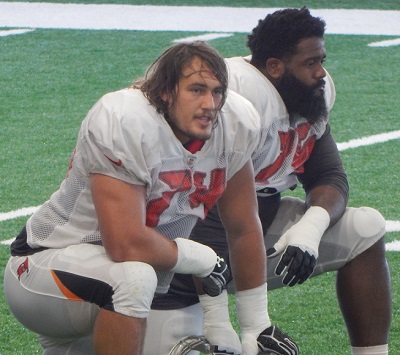 Joe often gets belted with the question of who looks great in Bucs training camp.
The answer has been easier than usual this year.
Consider that Dirk Koetter said the Bucs weren't doing a lot of full-speed stuff in practice yesterday. Well, how is a Bucs fan supposed to evaluate that effectively? Joe always laughs at outlets that make a bunch of bold proclamations out of one or two training camp practices.
Regardless, after a couple of weeks of viewing practice — and reviewing chunks of it on film — the beastliness of Ali Marpet has been astounding.
Marpet, 25, looks significantly stronger than in past seasons, not just in his stature but through various practice action. He's winning over and over and over again, and he looks completely comfortable at left guard. Joe's not seeing a learning curve.
This rise is compounded by the fact Koetter has said repeatedly that Marpet routinely is coaching up center Ryan Jensen on the offense and the line calls.
Of the guys bringing the contract year juice, Joe puts Marpet atop of the list, followed by Peyton Barber and Kwon Alexander.
Joe will be spending a lot of time tomorrow night watching Marpet and Jensen against the Dolphins.