Dirk Koetter Details JPP's Inside Rushing Prowess
August 4th, 2018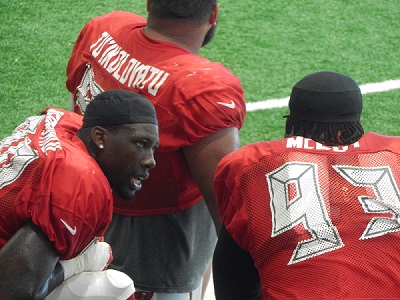 Yes, Jason Pierre-Paul continues to line up inside on many Bucs pass rushing sequences.
Today, Joe asked Dirk Koetter what he's been seeing on the practice film from his manbeast DE who is known as an edge rusher.
JoeBucsFan.com: Of all you've seen on film of JPP rushing inside in drills and what not, what makes him a good inside guy because he's spent most of his career outside?
Dirk Koetter: I think just his length. I don't think those guards are used to guys that are as long as him. And then when you watch him on tape, man is he flexible and he can bend. I mean that guy has got some serious flexibility. He's got power and he's got speed. And then he gets those long arms on those guys and they have a hard time getting off.
What a fun fantasy it is to imagine JPP rushing inside like a madman with McCoy and having it transform both their careers with Noah Spence and and Vinny Curry cleaning up outside.
It would be very cool if the Bucs maximized JPP's talent in a way that the Giants, JPP's former team, never discovered.