Daniel Jeremiah, Maurice Jones-Drew Make Ugly Predictions For The Buccaneers
August 29th, 2018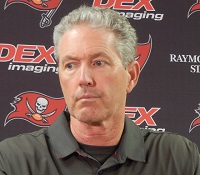 It's that time of year — and the good folks at One Buc Palace might want to cover their eyes.
A couple of football men Joe respects (and men Joe knows are respected inside the hallowed halls of One Buc Palace) have predicted the 2018 records for every NFC team. And it's not pretty for the good guys in pewter and red.
A man who can be heard singing Dirk Koetter's praises on NFL Network, retired running back Maurice Jones-Drew, Koetter's former workhorse in Jacksonville, predicts a 4-12 record for Tampa Bay. C'mon, MJD! What up with that?
Daniel Jeremiah, the former college quarterback and Browns, Eagles and Ravens scout who now is an NFL Network year-round draft guru, has called for the Bucs to finish 6-10.
Jeremiah thinks the Falcons win the NFC South at 12-4, with the Saints at 9-7 and the Panthers at 8-8.
Jones-Drew also likes the Falcons, but at 11-5, followed by New Orleans at 10-6 and the Panthers at 8-8.
Joe, of course, hopes these guys are dead wrong. If they're correct, well, then it will be a very busy January at One Buc Palace featuring lots of cardboard boxes.