Chris "Swaggy" Baker Gets Cut
August 24th, 2018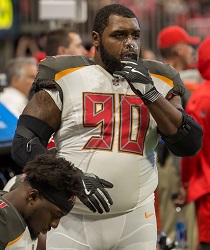 Whoa!
What a surprise! (sarcasm).
One of the great Bucs embarrassments of this decade (not an easy accomplishment), a notorious thief of Team Glazer, is now back on the street with the ranks of the NFL unemployed.
Today the Bengals booted ex-Bucs defensive tackle Chris "Swaggy" Baker, cutting him to save themselves his $3 million contract, per NFL Network. Baker walked away from his Cincinnati experience with $300,000.
He is free to sign with any team and the Bucs, as fans know, have depth challenges right now on their defensive line. Don't worry. It won't happen. Joe would sooner rather see Ryan Sims return at defensive tackle.
Somewhat ironically, Baker's now former Bengals teammate Michael "Ghost" Johnson, a bigger pillager of Team Glazer, is in jeopardy of getting cut by Cincinnati. Johnson, however, has played well since his return there in 2015.
One day there will be a Bucs castoff like one of those guys who begs to return to Tampa and make amends.
Perhaps Anthony Collins is ready to fill in for Donovan Smith and right a wrong?