Bucs Looking West For RB Help
August 25th, 2018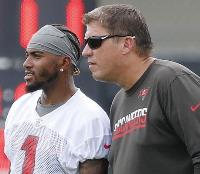 The running back the Bucs brought in for a look today isn't just a live body freshly unemployed.
In the chess game that is the NFL, Terrance West is especially notable because he just spent training camp with the New Orleans Saints and that means the Bucs would be very happy to have him on their side to pump all the Saints intel out of him they can.
The Bucs open their season in 15 short days in New Orleans.
Don't think this goes on in the NFL?
Just ask Cameron Brate how Rob Ryan, the former Saints defensive coordinator, absolutely grilled him on the Bucs after Tampa Bay cut Brate and he signed with New Orleans back in 2015.
Ronde Barber has talked about this common practice. Barber has said he thinks coaches love the info they get from a guy recently released by another team but it can backfire, he said, because it gets in defensive players' heads and can prove unreliable.
Regardless, Joe suspects the Bucs would love to have a guy like West in the house to pump him for information. Dirk Koetter apparently thinks releasing general injury information could give an opponent an edge, so he must be the kind of coach who would like to interrogate a player with real knowledge.
West, 27, is no slappy. He's a proven NFL commodity.
Slowed by a calf injury last year,West, had two touchdowns with the Ravens and averaged 3 1/2 yards per carry on just 39 attempts. In 2016, he rushed for 774 yards on 193 carries with Baltimore, and he caught 34 balls with one for a TD.
The Bucs play the Ravens this year, too.