Vinny Curry Outlines His Adjustment Challenges
August 11th, 2018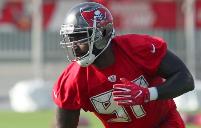 Interesting takes from Vinny Curry today, the free agent defensive end from the Eagles who will earn $6.5 million of Team Glazer loot this season.
The 30-year-old Super Bowl champion is finding Mike Smith's Bucs defense to be a real adjustment. He used a slightly exasperated tone this morning, calling the defense "way different, totally different" from what he did in Philly.
"I'm trying to learn the scheme here but also not take what got me to this point in my career away," Curry told SiriusXM NFL Radio. "You know what I'm saying? Trying to match the two and we're just learning. That's what you saw today, still trying to learn, still trying to be the attack player that I am but also trying to do it inside the scheme. Just trying to find that niche. That's what training camp is about. That's what free agency is about."
It's even been an adjustment for Curry to work alongside Gerald McCoy, who he explained is significantly different from Eagles stud defensive tackle Fletcher Cox.
"Where it is, Gerald is a finesse [player]," Curry said. "He has all the moves that you can give — a D-end and a tackle together — where Fletcher is a power rusher and he can go speed if you want.

"We're just trying to get to learn and get a feel for each other."
Later, Curry stressed it would take time for the defensive line to gel, which is not what Bucs fans want to hear given the Saints, Eagles and Steelers on the schedule to open the season.
Curry also noted that his former Eagles teammate, new Bucs DT Beau Allen, is a perfectionist, a fast learner and mastered the Bucs' playbook long before he did.
Joe certainly would have felt better hearing Curry say this Bucs defense is a perfect fit for him. But it is only Aug. 11. Plenty of time to find a rhythm.