Ryan Smith Still In The Hunt
August 7th, 2018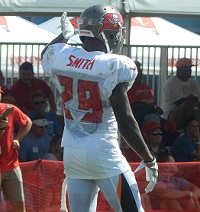 It's easy to forget that Jason Licht invested a 2016 fourth-round pick into Ryan Smith and that Smith was effectively a rookie getting a ton of snaps in 2017.
Initially, the Bucs thought Smith would be a safety. But roughly midway through his 2016 season, Smith was practicing at cornerback, his college position.
Pressed into starting duty last year, Smith struggled but survived and improved. Still he didn't have the look of a starting caliber cornerback.
Today, Joe asked Dirk Koetter what kind of training camp Smith has been having and what kind of leap he's making from last year.
Koetter was his candid self.
"Ryan, you know, because of the guys we've added, he's having to compete. You know, last year, he maybe got elevated a little faster than normal just because of the depth we had, or lack thereof at that position," Smith said. "And he's in a stiff competition right now. Ryan's working at it. He's getting better. He's just got to hang in there and keep improving."
Joe, as of today, is convinced Vernon Hargreaves will start opening day at outside cornerback and then move inside in nickel situations. But who plays outside in that scenario is unclear. Smith certainly has gotten lots of reps in that role in camp.
The unknown injury to Brent Grimes is a great thing for Smith and the pair or rookie corners, M.J. Stewart and Carlton Davis. They'll all get a ton of reps to sort this out.
One thing that could Smith's case: the film on him in the season finale against New Orleans isn't bad.