"The Million Dollar Question Is DeSean Jackson"
August 13th, 2018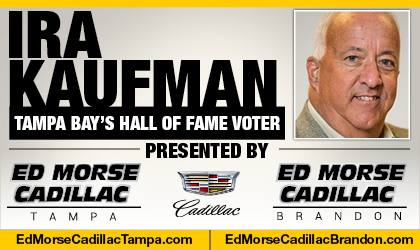 BY IRA KAUFMAN
Jim Miller will always have a soft spot in his heart for the Buccaneers.
Pat Kirwan's broadcast partner on "Movin' the Chains," a long-running SiriusXM NFL Radio program, landed in Tampa Saturday to watch the Bucs practice. The former quarterback of the Steelers and Bears who owns a Patriots Super Bowl Ring, came away impressed.
"If they can correct their red-zone issues from a year ago, they've got all the weapons," Miller said. "I love this offense. Now I just want to see the defense come together and see if Mike Smith will be more aggressive."
Miller's resume reads like an NFL journeyman, but he did make 27 pro starts and he beat the 2001 Bucs twice en route to posting an 11-2 record for Chicago after an injury to Shane Matthews.
In midseason that year, Miller threw three touchdown passes to Marty Booker in a 27-24 triumph at Raymond James Stadium, where Brad Johnson set a Buc record that still stands with 40 completions. A month later, Miller tossed a pair of scoring passes in a 27-3 rout at Soldier Field as Anthony Thomas gashed the Bucs for 173 yards on the ground.
In 2003, the Bucs were defending Super Bowl champions and Miller was signed as Johnson's potential backup, but he couldn't overcome a slew of injuries and he was released in September.
When Miller looked out on the field from his perch in the indoor facility at One Buc Place Saturday, he saw potential.
"They've got a great front four," he said. "Are the Bucs going to be vanilla and let those four apply the pressure? A better pass rush can make all the difference in the world. Hey, 22 sacks says it all. This team could not get to the quarterback."
According to Miller, Tampa Bay's roster is crammed with play-makers.
"The skill positions here are phenomenal," he said. "The million dollar question is DeSean Jackson. I thought he'd have more of an impact last year. Believe me, this guy can still stretch the field. Then you look at Chris Godwin — he was the talk of camp last year and I get here and he's the talk of camp again. There's no reason this offense can't put up big numbers."
Will Dirk Koetter survive? It's Miller time.
"Everybody knows there's a lot of pressure on Dirk," said Miller. "They went out and bought a defense to make them competitive, but the Bucs are getting no respect. Maybe they can use that to their advantage. I thought they would be at least a wild-card team last year, but they spiraled out of control.

"Granted, you need the ball to bounce your way in a tough division. They have the depth now to fill in when injuries happen. There's no reason the Bucs can't be one of those teams that come out of nowhere. It happens every year in the NFL."
Miller knows what it takes to play under center and he kept a close eye on Jameis Winston.
"For Jameis, it continues to be the turnovers," he said. "When you factor in the fumbles, it's too much. He's got to tighten up his game. I think he's too sloppy … you can't be careless with the football.
"If he just does that, those one-score games could potentially be wins for the Bucs. He tries to make a play, he holds onto it a little too long and sometimes, it's just bad decisions. Jameis has all the talent in the world and this is a proving moment for him. He's got to make everybody a believer. They've got to believe he's going to be the leader he says he is and wants to be."
Now in his 40th year covering the NFL, Ira Kaufman is the most revered sports personality and writer in the Tampa Bay area. He scored a full-time seat at JoeBucsFan.com world headquarters in July of 2016. Tampa Bay's only Pro Football Hall of Fame voter, Ira busts out columns here every Monday, Wednesday and Friday, and his award winning podcasts fire Tuesdays and Thursdays. You can also hear Ira on SiriusXM Mad Dog Radio Wednesdays at 5 p.m. during football season. Also a TV star, see Ira now on Mondays at 10:30 p.m. on Spectrum Sports 360 (aka BayNews 9). Ira also is part of the FOX-13 Tailgate Sunday NFL show and enjoys beet salads, Riesling, tennis, Chiefs victories and needling Joe.