VIDEO: Jameis Winston, Mike Evans, Donovan Smith On The Basketball Court
July 2nd, 2018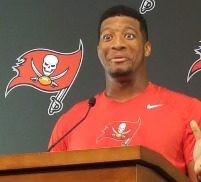 Perhaps many current Buccaneers don't know or remember how former Tampa Bay kicker Connor Barth screwed up his career.
Or maybe they don't realize that seemingly every offseason at least one NFL player tosses away millions of dollars because of a basketball injury.
Too many guys are willing to gamble big time in the name of fun — and sometimes charity. Joe gets that they're young and feeling untouchable by fate, but it's still a foolish move to play in a pickup basketball game — especially one being filmed and the video can land in the computer of your employer. (You can't even fabricate an excuse if you wrench an ankle or tore up a knee in that scenario.
Anyway, in May, Mike Evans hosted a charity basketball game near his Texas hometown and he, Jameis Winston and Donovan Smith can be seen below participating in the full-court game.
Jameis is seen right away handling the ball and looking for contact. First, he gets stripped, then commits a charging foul, before driving hard to the hoop and converting something that looked like a layup. There's more, too.
Thankfully, nobody got hurt.