True Canton Contender
July 9th, 2018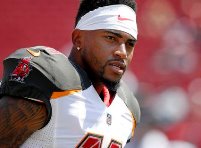 Joe is so pleased to share this story out of Philadelphia for two reasons: it highlights an ugly truth about the 2017 Bucs, and it backs up a private argument Joe had on the subject with Tampa Bay's only Hall of Fame voter, JoeBucsFan.com columnist Ira Kaufman.
Bucs fans know too well that Tampa Bay paid $11 million for DeSean Jackson last year. Dirk Koetter said he was open but quarterbacks couldn't/didn't find him.
Joe believes Koetter and his analysis is nearly represent unforgivable sins against the football gods.
Consider just how damn good Jackson has been in his career with an array of quarterbacks. He's centimeters from the Hall of Fame conversation, explains NBC Sports Philadelphia writer Reuben Frank.
DeSean Jackson hasn't played here since 2013, but he's quietly piled up some crazy career numbers. With 513 yards in 2018, Jackson will become only the sixth player in NFL history with 10,000 career receiving yards and an average of at least 17 yards per catch. The others? Hall of Famers Lance Alworth, Don Maynard and James Lofton, plus Harold Jackson and Stanley Morgan. D-Jack is already one of only seven players in NFL history with five career seasons with 1,000 yards and 16 yards per catch. Jackson turns 32 on Dec. 1. If he records 513 yards in the Buccaneers' first 12 games, he'd be only the third player in NFL history with 10,000 yards and a 17.0 average or higher before his 32nd birthday.
If you didn't digest that previous paragraph, then read it again.
That's how good Jackson is and can be for the Bucs. He was in his prime last year and the Bucs couldn't capitalize. Somebody should pay for crimes against Bucs fans.
If Jackson hasn't lost a step at 31 years old, then the Bucs simply has to use that weapon better. Much better.
Joe suspects Jackson will be ready. Heck, Joey Galloway, had three 1,000-yard+ seasons here at 34, 35 and 36 years gold, and Jackson is a freakish athlete like Galloway was.